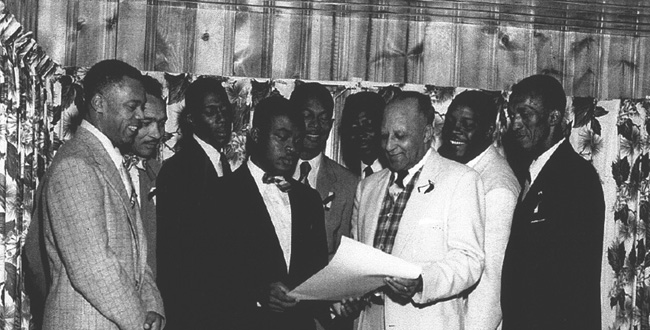 The Zeta Alpha Lambda Chapter of Alpha Phi Alpha Fraternity Inc. was chartered in Ft. Lauderdale in 1954 by 8 courageous and community-minded men – Jullian Adderly, Ellis Miller, George H. Green, Theodore Primus, R.S. Mitchell, Dr. William H. Coleman, Alphonso Giles and Samuel Ford From the seeds of social and economic inequality and a desire to uplift the residents of Broward County in spite of limited opportunities and professional ostracism these charter members were comprised of educators, doctors and lawyers and one the of the greatest jazz musician America has produced – Bro. Julian "Cannonball" Adderly.
From its early existence, these members endeavored to provide, "Manly Deeds, Scholarship and Love for all Mankind." These men wanted a better future for young men and women living in Broward County and worked valiantly to create programs that would impact and shape the lives of its participants. The Charter Members developed voter registration drives, tutorial programs and introduced the Alpha Phi Alpha "Go to High School Go to College & Project Alpha" National Program to Broward County.
Alpha Phi Alpha Fraternity, Inc. has continued to supply voice and vision to the struggle of African-Americans and people of color around the world. The Fraternity has long stood at the forefront of the African-American community's fight for civil rights
"Leaders among the Negroes must teach colored working men that they must create their own opportunities for retention and advancement by giving superior and efficient service in spite of the handicaps that are before them."
– Jewel Eugene Kinckle Jones, 1920
With this accumulation of talented and inspiring brothers, Zeta Alpha Lambda has been a pillar of stability and community focus for Fort Lauderdale since its chartering.
We continue today, focused on the call of service. We are an empowering entity in the lives of many across Broward County and look forward to our impact growing in the years to come.